WordPress websites provide 2 main types of content:
Pages will be used to create your homepage, contact us page, about us page and any other pages you require.
Posts will be used to create blog posts, that are updated regularly and older posts are archived making them slightly harder to access than recent blog posts and pages.
Generally pages will be timeless, while posts will be timely.
Nettl studios will normally design and build your pages, but will provide the framework and templates for you to create your own posts.
Editing posts & pages
Log into your website back office, and choose either the Posts or Pages menu.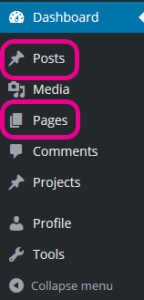 Next you'll see a list of all the pages or posts created for your site.
Search for the page or post title and click the page you want to edit.
Here you'll see the content of the page. The page content will normally be divided up into sections, rows and modules like the image above. (Don't worry if your website doesn't look like the screenshot above, your website may use a different solution with a content text block to edit and settings down the right hand side.) Press the three line menu icon to edit the modules and change the settings or text.
The options available after you press this are dependent on what's been created for you.
For simple text module settings you'll see a text box where you can enter text, double click links to change the url they go to, and replace images by pressing the Add Media button.
You may see text with code in it such as in the image above, where there are pointed brackets like "<" and ">" or square brackets like "[" "]". This is used to apply markup, or to get content from somewhere else. If you see code like this on the module that you're not familiar with, try changing the content outside the code markup, but Preview Changes before you Update. If your stuck, contact your local web studio for advice.
Previewing and saving changes
Once you've made changes, scroll up to the publish side bar you'll see on the right side of your page.
Choose the Preview Changes button and you'll be able to view the page with your changes. It's always advisable to preview before you update in case other changes need to be made. When you're happy with the preview, press the Update button.
Blog post tags, categories and featured images
Something you'll see on blog Posts that are not normally visible on Pages is the option to add tags and categories. These are used to help help people re-find old content, as you can group together similar posts by including them in the same category or by adding the same tag.
Tags and categories will appear on the right side of the blog post.
You will see a list of all the tags and categories already in use on your site, so you can re-use ones you've had before.
However you can also create new tags and categories while editing the page.
Featured images are also used by blog posts to show an image that helps summarise the content of your blog. To set a featured image, simply go to the featured image and choose a photo from your media library.
What if I need regular content that isn't a blog post?
If your site is an e-commerce website, directory website, or requires something other than blog posts – your Nettl studio will help you create a new content type with it's own menu designed for you to create these on a regular basis. The menu will be named after the content type you need, such as news, articles, directory listings or products.
The main content section will be the same for these content types, however there may not be a page builder. Instead the page may be designed specially to add the content you need for the framework provided.
Is there anything I can't edit?
There will be parts of the site that have been specially built for you by your local web design studio that can't be edited within the post, page or other menus. If you've tried to edit something but feel you are unable to, contact your local Nettl studio for assistance.
https://www.nettl.com/uk/wp-content/uploads/2018/04/nettl-header-logo-smallest.png
0
0
Alistair Wilson
https://www.nettl.com/uk/wp-content/uploads/2018/04/nettl-header-logo-smallest.png
Alistair Wilson
2015-12-31 12:31:27
2016-01-06 16:05:53
Wordpress