4 Marketing Strategies Worth Paying Attention To During a Pandemic
 approx 9 minute read
How can marketing help you to generate new clients? Is it necessary? And does it warrant you spending your time on it, as a business owner? These are valid questions, and all with the exact same answer. Hell yes! Marketing your business is just as important as taking care of the operations, management and finances of your business. It's your voice, it's how you speak to your customers without ever meeting them. This couldn't be more prevalent now. Now, more so than ever before, branding and marketing is your customer's first impression of your business and we all know how important first impressions are from the 2001 Natalia Imbruglia anthem wrong impression. Through effective marketing you can give new and potential clients a positive and strong first impression of your product offerings. 
At Nettl, we know, whether it's through traditional marketing efforts or marketing your business digitally, it's vital to the success of your business that you continuously share your message and tell people why you exist. So, pop on the kettle and have a read through our top 4 digital marketing tips to elevate your business right now. Remember throughout that if you in fact do not want to contend with this and prefer to focus on other areas of your business and lean on your local team of marketing experts, pop a message to your local Nettl team. We love nothing more than deep-diving into our clients' business purpose and values and come up swimming, with a blended marketing campaign in hand!
1. Website Design
In today's climate, your website is hands-down the most beneficial marketing tool available to you. What your customers find or do not find when they search for your services or brand shapes their perception of your business and brand. In turn, this weighs heavily on their decision-making and purchasing processes. Having an effective, user-friendly website speaks volumes for your brand. According to Stanford, 75% of online users admit to making pre-determined judgements about a brand based on their website design. This is increasingly important to take under consideration as according to clickz.com The Network Impact of the Global COVID-19 Pandemic – The New Stack has drastically increased. Within the first month of lockdown internet traffic increased by 30%. So for Pete's sake, give your website the TLC that it deserves and don't let your customers feel like they are 'chasing waterfalls' when navigating your website. Oh yes, this blog will couple at a throwback music set list, just for you!
The overall design and navigation of your website is crucial to keeping customers engaged and on your site for longer (leading to sales and returning business). It is also your business' store front in the cyber world. You wouldn't have your office or shop disorganised and cluttered, or shop fascia rusted and falling down, so your website should be no different. It is the epicentre of and gateway to your brand and how customers find out more about you and why you exist as a business. So let's use it! Use your website as the marketing machine that it is and keep your customers invested in and informed of your brand offerings. 
Web design not your thing? No problem, give your local Nettl web experts a call and we would be delighted to help you on your journey, better together as Jack Johnson might say.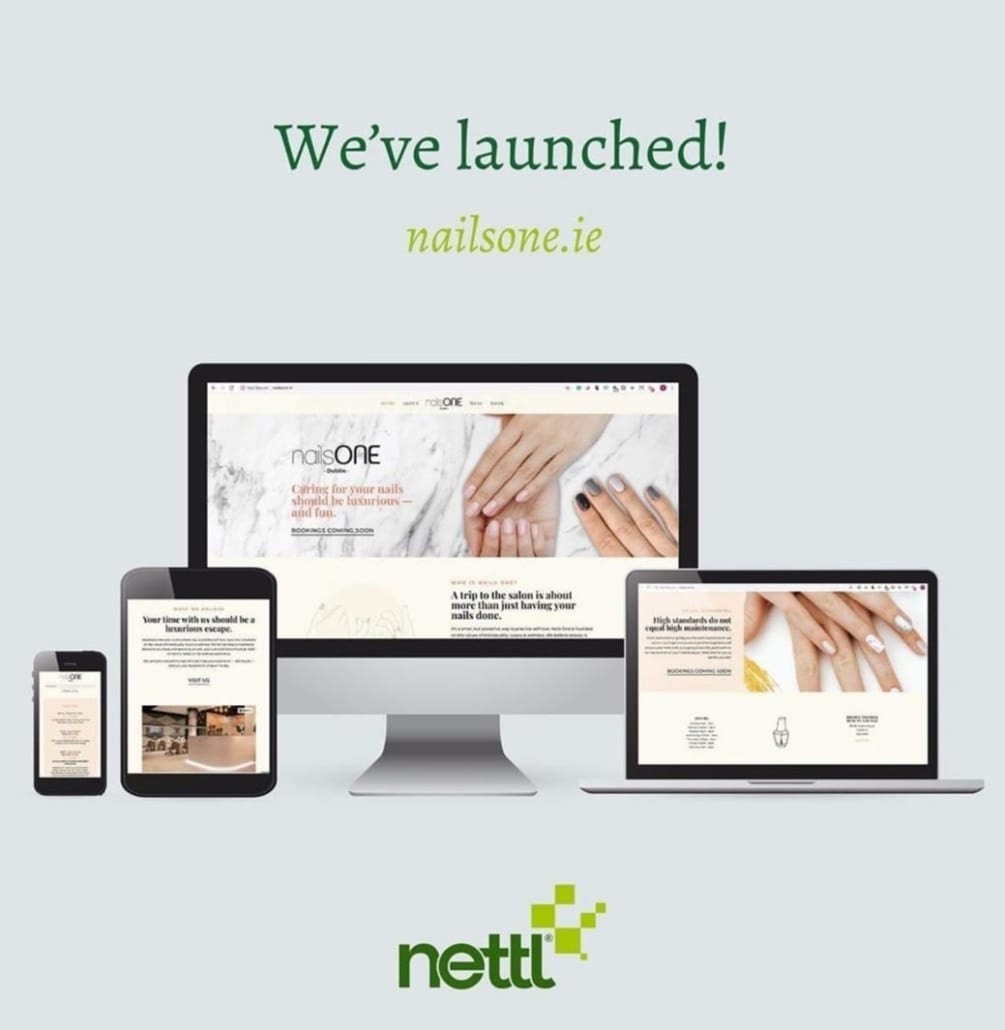 The way customers interact with a brand has completely changed in recent years. Traditionally, brand recognition came from radio, television and print ads, however with the inclusion of digital media in our everyday lives, the trend of researching a brand and their product offerings prior to purchase has become increasingly popular. This relatively new habit has escalated due to Covid-19 as consumers have been pushed to shop online. As a result of this, the importance of a business' website has increased tenfold when it comes to their survival during this pandemic and thereafter. It's important to note that many consumers believe that this online shopping trend is here to stay.
So, how can you utilise your website to market your products and services? 
First and foremost, make sure that what you are saying and offering is relevant and up-to-date. If you have had to pivot your business model and your offerings to survive Covid-19 (well done, by the way!) do a Will.I.Am on it and 'Scream and Shout' to inform your customers. 
Secondly, make sure that it is easy to navigate and it is inviting. Need a hand? Our Nettl teams love to track and improve the experience your users have on your site. If you're a web designer look for a UX training course, feel free to check out our Nettl academy training courses. We don't want your customers to become frustrated with your brand before they even get to know it. You may not believe it but 66% of consumers become frustrated and unsatisfied with a brand if their website is difficult to navigate. It is a very true reality and a huge barrier to trade if it happens.
Thirdly, market the hell out of yourself on your website. Include reviews, polished images, blog posts, social media posts etc. Think about it as a long term marketing strategy that has the potential to extend your reach and in turn increase your businesses profit. Include links to your external accounts, offer subscriptions to sign up to your email marketing campaigns. Give your customers the opportunity to get to know you better. They have landed on your page for a reason, it's your job to keep reading on and wanting more. 
Your product offering and how you market them will forever remain an integral part of getting more customers, but now that we are living through a pandemic it is more important than ever to audit and improve your customer experience throughout.
If you're a marketing or graphic design agency who currently does not offer website services, why not use this time to upskill some of your employees and train them in website design? Offering your customers more and streamlining their marketing practices will help your business to stand out from the crowd and offer a more valuable service to your customers. Reach out to our academy team or browse our training courses. The Performance team would only be too delighted to extend their website building knowledge to you, (Yes, we love this stuff, it makes us 'Pharrel Williams Happy' when we can help businesses grow)!
So why not use this time to learn something new, and simultaneously increase your annual revenue? If you're a design studio, your clients will need to improve their online offering. If you're a business owner, you'll need to spend time working on the business and how you tell others about it!
2. SEO
What is it? Why do I need it? Is it effective? You better believe it is! SEO is a long term marketing strategy that places your beautiful website in front of customers who are searching for your product offerings. This digital marketing strategy can be very cost effective as it allows your website and business to be visible on search engines and aids lead generation. It's important to remember that SEO is a LONG term marketing strategy. You won't see results overnight. Like Rihanna said you have to Work, Work, Work, Work, Work to improve your website in order to generate new leads and eventually see conversion rates.
Without stating the obvious, SEO is an advantageous marketing tactic to employ within your strategy as it helps to build brand awareness. As google begins to recognise your brand and you climb the ranks, prospective customers tend to be more likely to trust your website if it is on the first page of a search engine's results. Don't believe me? Well, it has been found that 75% of search engine users don't search beyond the first page of search results. Annoying, but true! This just shows the value of SEO. Without it, you are potentially missing out on precious traffic, leads and revenue for your business. 
Don't worry though, we can run an audit on your site and get you on the right track, so no need to panic just yet! SEO can be incredibly rewarding for small businesses who are struggling to build their brand awareness and differentiate themselves from their competitors, both on a local and national level. 
Investing in SEO can result in small businesses ranking for top industry search terms, which may not have been previously possible. We don't want your business to be a 90's one hit wonder, I won't name any names (Patrick Forn…*cough cough* Breakfast at Tiffany's). But search engines play a significant role in making or breaking a brand, so it's important that you consider optimising your website as a means of strengthening your brand awareness.
The beauty of SEO is that it is quantifiable. Through tracking and analytics it is easy to see where and how your customers arrive on your site. The things that they are searching for and the content that they are interested in. It's important to realise that organic search is the primary source of all web traffic, so ensuring that your website is search engine friendly and being aware of what potential customers are looking for offers you with the best opportunity of getting in front of your ideal clients. Implementing an SEO strategy within your marketing practices can prove to be very beneficial as you can acquire insights into what is proving to be effective for your competitors. Have I got your attention yet? Presumed as much. These insights will allow you to alter your own SEO strategy in order to stay ahead and relevant. It's a no brainer to us!
When you optimise your website, you are also improving the user experience.
The two very much so go hand in hand, and this is important to remember. Clean, uncluttered and well structured websites entice potential customers to remain on your site for longer. This decreases the bounce rate, as well as increasing your page views which is only a positive. SEO friendly websites have been known to bring more customers to your website and grow twice as fast in comparison to websites that are not. Similarly, relevant, up to date content is of paramount importance. Ensuring that your customers are kept enthused and satisfied is your goal here. Keeping them happy through solving their searched queries and helping them to find exactly what they are looking for in only a few clicks will really benefit your business and your rankability. 
SEO is one of the most efficient and affordable marketing strategies that you could avail of. Yes it is a long term strategy, and yes it takes a lot of hard work but overall it's a strategy worth focusing your attention on. It will only help to attract customers who are actively searching for your product and service, as SEO brings "targeted" traffic onto your website and in turn more customers to your business. So, if you are interested and want to 'Take a chance on Me' (or SEO), get in touch and we can run an audit for you.
3. Email Marketing 
Contrary to popular belief, email marketing is not a strategy that is 'dead and gone' (any T.I. and Justin Timberlake fans, if you don't get that reference you aren't a real fan). It is, in fact, proving to be quite the opposite. Yes, it is true that many people tend to ignore "spammy" looking emails and delete them without a second thought. But digital marketing has evolved drastically over the past few years and the opportunities and possibilities of what you can do and how to keep your customers engaged are endless. You have to be unique, authentic and clever about what you put out there and how you do it. Here are some tips on achieving just that, practice elevating your emails!
However, with the combination of automation and more significantly personalisation, email marketing should be one of the core strategies in every business' marketing plan. This cost-effective method of reaching large numbers with the touch of the button makes email marketing a serious player for 2020. Having the ability to trigger a personalised email for a specific user browsing your products and to be able to further nudge them with a promotional price, tips on how to use the product or a demo video, allows you to set your brand apart from your competitors as you are offering your clients with a more memorable and valuable experience. Don't believe me?  49% of buyers made impulse purchases after receiving a tailored and personalised experience.  Utilising email marketing can often be the final step to motivate the consumers action and to fortify customer loyalty within your brand, especially if you have coupled this with other remarketing techniques.  
What is important here though is to grab the attention of the user. Little touch points to keep your brand and offerings front of mind of your customers is what you are aiming to do. Re-marekting and showcasing what you have to offer is a primary purpose behind email marketing campaigns. Focus on your email templates and layouts. Entice and wow your clients. If you need a helping hand with that, we are experts in the field and we want you to wow your customers just like Bow Wow mesmerised us in 1998 with his hit Bow Wow That's my Name! 
Get in touch with your local studio and the team would be more than happy to help you create an email marketing campaign to separate you from the crowd. It's a simple yet very effective way to market your business, while simultaneously creating brand recognition, and customer loyalty. If you are worried about GDPR, why not give our guide a read through. We know it can make you go Disturbia (just like Rihanna in the music video) and so have made things simpler!
4. Content Marketing
As the saying goes "Content is king" and in our current climate this couldn't be more true. As customers we are inundated with content throughout the day, so much so that it is near to impossible to capture their attention. It's very important that as a business you plan your content more so than ever before. Use Google analytics and google trends to get a deeper insight into their new habits and behaviours and give them something interesting and engaging to think about. This will not only drive brand recognition among your customers and aid in marketing your product offerings but it will also do wonders for your SEO. Remember, SEO demands content and content marketing feeds that demand. 
It doesn't have to be static, it can be interactive and your content should be interactive. According to Outgrow, 93% of marketers believe interactive content to be a highly effective method of informing and educating a buyer. Utilising marketing technologies such as augmented reality, social media content and video content, to offer customers with a more immersive, engaging and interactive experience with your brand and products has proven to be incredibly beneficial in regards to generating sales and returned business. Customers want a memorable experience in order to feel apart and more connected with your brand. They are screaming for you to "Gimme, Gimme, More, Gimme More" (Yes I may be a Britney Spears fan!), so give the people what they want. It just needs to answer your audience's questions in a fun and engaging way and in turn you can then build trust and a relationship with your audience to improve conversions and generate leads. 
How can content generate leads, I hear you ask?
Content is an effective way to guide customers to your website. Through creating content which delights your audience, you are more likely to entice them to click the call to action and land on your website. Great content is an essential asset for any business. It has the capability to generate a positive and memorable experience within your audience and compel them to stay connected and interested in your brand. It's your way to get your foot in the door to capture your audience's attention and continually reinforce a positive brand impression. 
When planning your content always have in the back of your mind the wise words of Robbie Williams, Let me entertain you. This is exactly what you have to do for your customers, and if you need a hand we are here to help. Whether that is through traditional marketing methods, or through digital marketing your content has to be effective and entertaining. Especially since Digital marketing methods like SEO and PPC are currently key players within the marketing field due to the fact that companies have shifted their advertising budget to suit the times, content is crucial to the success of your businesses marketing strategy. Reaching your customers in a number of ways on a number of channels is very important. Sharing your content through both traditional and digital channels and having consistency in your brand messaging will do tenfolds for your business and it is one of the many marketing tactics that determine the growth and success of your business. Curate a couple of outstanding graphics to grab your audience's attention and share them across a number of channels. Email, social media, display ads, direct mail, whatever it may be, be sure that you're displaying your brand message and product offerings in the best light.
If you're in the graphics, signs and print industry and are looking to improve the way you market your offering, Nettl partners can help you begin your journey with marketing plans, reports and assets provided to you alongside training and custom built CRM systems to make your dream an outreach, shout-about reality. Take a read here to learn more or drop a message to our Nettl team.
If you're a local business owner looking to grow your presence, web presence and digital marketing or through branding, marketing, design, print and signs, grab a coffee with your local Nettl studio to learn more about what you can do to get more customers.