How the creative industry can help you strengthen your brand
 approx 11 minute read
As graphic designers, we often help to turn the vision a business owner has for their business into a reality. That may be creating a logo or their whole brand identity. Graphic designers play an essential role in setting a new business up for success. This article will outline the important role that we, as graphic designers, play in creating a strong business brand. 
Learn about how effective graphic design and branding can aid the success of your business, in terms of thriving right now but also in order to increase your lead generation going forward. First and foremost, if you need a better understanding of what branding is and why it is a necessity for any business, here's an article written by one of our Nettl Gurus illustrating 6 reasons branding is important for any successful business. 
In 3 simple steps, this article will show you exactly how branding and graphic design can improve and fortify your business during a global pandemic. So let's jump straight into it…
1. Grow your business online and offline with branding and graphic design. 
During any difficult period or a recessionary time, it's essential that businesses listen to their customers and pivot to their needs accordingly. Considering that we are living in the digital age, the demand for brands to be present and accessible both online and offline is more important than ever before. Graphic design will help your business develop your customers' perception of your brand. In-turn, this will help to grow your customers' awareness of your products and services. So much so, that a strong brand will be the automatic, subconscious choice for consumers when they are in need of replacing or purchasing your product offerings. 
Use a local creative agency to ensure that your brand is consistent and recognisable on both online and offline channels in order to strengthen your brand going forward. 
The need for any business's branding to be consistent across their marketing channels is vital to increasing their brand visibility. Leaning on a graphic designer in order to help you create a recognisable brand will position your brand favourably in front of your target audience is key. If your brand differs across your marketing channels, your customers will find it difficult, not only to trust your brand, but even to recognise it. 
Market across a number of  channels of communication: 
This is where ensuring that your brand is consistent on both online as well as offline means of communication comes into play. 71% of British consumers state that they are hesitant to make any purchases in a physical store as a result of Covid-19. Comparably,  45% of consumers use their smartphones as part of their shopping experience, whether that be making a physical purchase in a store or an online purchase. 
Your design team can ensure that your brand's colour palette, design, logo and other branding assets are replicated throughout your marketing collateral. Whether that be your business card, flyers, signage or, of course, your website. Considering the importance of having an online presence, especially in a time like this, graphic and web designers play an essential role in ensuring that your audience knows exactly what your business offers at first glance. This level of recognisability increases your business's credibility within the minds of your target audience but also means that they have a subconscious relationship with your brand.  
Why is this beneficial ? In the eye of the consumer, your business is regarded to be trustworthy and consistent which often means that they will subconsciously remain loyal to your brand. 
Be engaging:
Using graphic design to create an exquisite brand which your target audience will want to interact with is the aim here. Being consistent across your marketing communications will also ensure that your brand becomes better known and increases its credibility within the market. If you need a hand, get in touch with your local Nettl studio. We would be happy to provide you with some guidance as to how you can create an engaging, blended marketing strategy. 
2. Increase your sales with  branding and graphic design:
Things may seem difficult at the moment. For many of us, this time of year is usually our busiest. Like so many, perhaps your sales are strained at the moment. Actively getting in touch with your customers through a number of marketing touch points will keep them within your sales funnels. Eventually this will lead them back to you when they require your services. Graphic design is a great tool to help your brand garner more attention among prospective customers, as well as keeping them aware of your business offerings. 
Having an identifiable brand will  help to increase your sales as it will communicate your business's core values and what you stand for. This helps to build a rapport with your target audience as your brand automatically becomes more relatable. Attracting and retaining customers through a strong brand awareness will help to drive revenue as customers feel as though they have an emotional connection and bond with your brand.  Not only are they then more inclined to remain loyal to your brand, but they are also more likely to promote your brand to others. 
Be Engaging: 
Using graphic design to attract customers to interact with your brand is highly beneficial when it comes to driving sales. If you can make your customers can relate to your brand values, they are more inclined to continuously purchase from your business. With the help of graphic design, you can capture your audience and emotively hook them with what your business has to offer. A great example of this Guinness. Whether it be a print or digital advertisement you are often left feeling positive, warm, proud or excited after viewing their marketing campaigns. Guinness manages to associate their product and their brand with relatable events or emotional feelings. Regardless of whether the customer likes the taste of Guinness or not, they will interact with the brand in some way or another. That may even be simply visiting the brewery on their next trip to the Emerald Isle.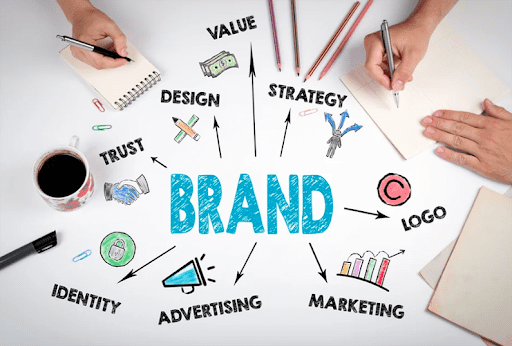 Graphic design helps to increase your sales through memorable marketing campaigns.
When your brand delivers a consistent, high-quality customer experience the more inclined your customers will be to interact with your brand in the future. Using graphic design to create memorable marketing campaigns, just like Guinness does, you have the potential to build a loyal customer base. This will help to increase your sales as your brand is more likely to be top-of-mind when your customers are in need. 
Similarly, graphic design will help you to differentiate your business from your competitors.  This is also important for your brand's recognisability & brand positioning within the market.   
How does this increase your sales though? When your brand is considered to be trustworthy and is positioned in a favourable light, your customers become increasingly loyal to your brand. As a result of this brand perception, business owners will also find it easier to have more control over the price of your products and services, inevitably increasing your annual revenue.  
Creating a brand that is regarded to be trustworthy and known within the market to be of high quality and consistently delivers on their brand promise is critical when growing your sales. This can be effectively and easily done once you work with a graphic designer to help you to develop your branding and deliver upon your brand promises. When you garner increased attention through your marketing materials and excellent customer service, your brand will be positioned more favourably. In-turn, an increase in business revenue will follow.
3. Increase your share of voice with branding and graphic design: 
It's every business owner's goal for their brand to hold a greater share of the market. Knowing exactly how your business is perceived by your customers is vital, and this is where your graphic design can really help you put your best foot forward. Being aware of your business's share of voice provides important insights into the level of engagement your marketing efforts are generating  between your business and your audience. 
Your share of voice is a reflection of your brand perception and provides an insight into which of your marketing strategies may be outperforming and proving to be more beneficial than others. Analysing your business's share of voice is a valuable practice for any business to undertake. It allows you to focus on your more effective marketing strategies. Instead of wasting time and resources on activities that are not profitable, you can allocate those resources to strategies that are actually achieving your business and brand goals. If your market share increases then you know that your brand is being received favourably. 
Considering this, it is important to avail of your graphic designers to help you to create your marketing campaigns and improve your branding, in order to garner more attraction and improve the impressions your target audience has of your brand.
Monitor your share of voice to improve your marketing campaigns through graphic design & branding.
Gathering deep and meaningful insights into the type of customers who interact with your brand and your marketing both online and offline, will allow you to create a stronger, more effective marketing strategy going forward. When you monitor your share of voice, you can tailor your marketing towards your customers' preferences. Using graphic design to improve your campaigns is of great significance as Covid-19 has not only affected consumers' buying behaviours but it has also impacted how consumers perceive your brand. Having effective marketing strategies helps to focus how you should communicate and deliver customer value for the foreseeable future. 
Analysing your share of voice shows your target audience that you care about how they experience your brand. Through social listening you can use graphic design to improve and produce memorable and effectual marketing campaigns through graphic design. Creating campaigns that garner customers' attention which helps to improve your business's recognition among your target audience, which in turn fortifies your brand's share of voice.
Of course this is easier said than done. But here are a few tricks and tips that may help you to increase your share of voice. 
Market across a number of channels:
Developing a well-rounded marketing campaign with a number of touch points is exactly what will help you not only retain but also attract new customers. Our article 4 marketing strategies worth paying attention to during a pandemic  shows you exactly what marketing strategies can help you with your marketing right now and how to get in front of your ideal clients.
Here, leaning on a local design agency, like Nettl, will really benefit your business. Creating memorable campaigns across a number of platforms will increase the likelihood that your target audience will automatically recognise your brand & purchase from you when they are in need of your products and services. A great marketing practice that will benefit your business right now is a direct mail. According to Decision Marketing  direct mail has become one of the most effective marketing strategies this year. Understandably, with many people working from home and those who are distant from one another yearning to connect in a tangible way. Want some advice on how you can garner attention through direct mail? Get in touch with your local Nettl Studio for some advice. 
Be engaging: 
Ask a graphic designer to help you to create engaging content. Graphic design will help you to increase your brand awareness throughout your various marketing touch points. Creating memorable and engaging content is incredibly important to ensure that your target audience enters into your sales funnel, especially during these difficult times. Engaging content will  help to increase your share of voice within the market and your customers will reward you through word-of-mouth promotion and returned business, as you have instilled within them a subconscious feeling of brand loyalty.
Reward your audience:
Spark conversation among your customers. Run a competition or give a discount code in an email marketing campaign to brighten your customer's day. Maybe even partner with an influencer, all of these methods of communication can help to increase your share of voice. Not only do these spark a conversation around your brand but they also provide increased publicity among your target audience as your brand is shared and spoken about increasing your share of voice within the market. 
Looking to strengthen your brand?
If you are in need of any marketing advice, please feel free to get in touch with your local Nettl studio and we will help you to brainstorm some new and exciting ways that you can market your business to get your through the coming months. That's what we are here for! 
So, if you're looking to grow your presence, improve your marketing strategy through branding, marketing, design, print and signs, grab a coffee with your local Nettl studio to learn more about what you can do to get more customers.