Effectively Managing Customer Experience as a Small or Medium sized Business
 approx 5 minute read
Why is customer experience important in 2020?
 Strip the personality out of a business and it is much like many, many others. Any number of brands can do what you do and do it in a similar way too. As businesses, we must distinguish ourselves by illustrating why we exist and by offering a streamlined, effective way of working. The harder it is for someone to do business with you, the less likely they are to work with you or to continue working with you in the future. Most successful companies offer a clear and pleasant path to their clients, from first interaction to project completion and any future communication. An incremental part of building a loyal network and getting more customers is great customer experience. Now, more than ever, we depend on strong relationships and community strength to excel together.
In this article, we'll explain why consistently great Customer Experience is an incremental part of growing your business. We'll also share a simple guide to auditing and improving the experience that you offer clients.
What is Customer Experience?
Customer Experience refers to the feeling evoked from every interaction a client has with your business from the research phase, to purchase, to follow-up feedback. Customers are arguably the most important stakeholder in any business. And that's why we start with them when looking for ways to improve. Customer experience is about offering clients consistently pleasant and valuable interactions with your business.
What does high Quality Customer Experience mean?
Quality is subjective. It means something different to everybody. Delivering a quality service is not about out-of-the-box solutions. It's about identifying the needs and wants of your clients, setting their expectations against what you can do, deciding together how to proceed and then delivering it.
Imagine you owned a car dealership. What would be the best quality car you sold? Perhaps the souped up coupé with the high horse power and the low roof?
But what if your client was a mum of 5 who needed 6 seats and space for a car seat or two… Would your zippy coupé be top quality for her? Probably not.  Your sustainable, reliable people-carrier with spacious seats and a larger boot for prams would be better quality for Mum and co.
So, quality is achieved by tailoring a solution to your client's needs and wants, setting their expectations against what you can do, deciding together how to proceed and then delivering it.
Managing Client Relationships & Experience as Small or Medium sized Businesses
Is great customer experience achievable for SMEs?
A quick search into Client Relationship Management systems or Customer Experience Strategy and as a small business owner, you may feel like a little fish in a big ocean. Don't be dismayed. We work every day with network partners and clients alike, helping them improve the way they manage their client journeys.
There are many practical, tactical and strategic ways to achieve a consistent experience for your clients. Below, we've outlined some relevant to small and medium sized businesses in general, others are specific to those in the Creative Industry.
Moment of  Truth
Moment of Truth marketing relates to the impression a client or potential client makes of your business at every interaction. It's a great scaffold to support you in digging down into your Customer Experience offering. There are a number of Moments that are particularly important to most businesses.
Identifying and managing the points at which a client creates an opinion of your business helps you to improve the quality of your customers' experiences.
Zero Moment of Truth
What your client experiences when they research prior to making the decision to work with you. Think online, think digital. These moments are created when potential clients use search engines and note where you rank. When they study your Google my Business for updates and reviews. When they read the content on your website and digest its design
First Moment of Truth
The shelf experience of a client. How they feel the first time they experience your business. Online, this is your website experience. Offline, this is your bricks and mortar store or place of work. It's the way they feel when chatting with you or your team over the phone or email.
Moment of Truth Gap
The client's experience after purchase before the product has been received or delivered. Most relevant for businesses trading online or those with a production period or wait time between purchase and delivery.
Second Moment of Truth
The experience of your client the first time they see, feel and use your product. Is it as expected? Is it an exciting interaction? Perhaps you've included some marketing, a thank you note or a guide to using the product in the delivery. Perhaps not. Perhaps you should…
Third Moment of Truth
When your client gives feedback on your product, whether that be on a public forum or to a friend or colleague. Do you respond to online reviews? Do you share thanks for referrals?
77% of consumers view brands more favourably if they seek out and apply customer feedback.
Audit your Experience
Draw or photograph every interaction your client has with you and plot it on a scale from 1-10. 1 being a disgruntled client, 10 being an ecstatic one. You should end up with a graph that might look like this one:
It's not realistic to aim for 100/100 on every interaction. Better to consistently deliver 80% satisfaction than the experience in the graph above that builds the client up and when those expectations aren't met, drops them down hard.
Start by asking yourself, 'Which improvements would make the biggest changes to the way my clients feel?' Identify two or three to focus on this quarter and create a plan to improve those to deliver a less sporadic, consistently great, experience.
Resources like the Eisenhower matrix and a Feasibility-Impact chart can help you decide which to start with and when.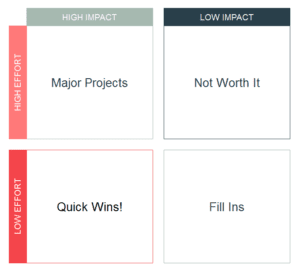 How to Manage Client Relationships & Experience as a Creative Led Business
As a global network of locally operated design studios, we've learned a lot about how to manage clients' experiences as a small business (sometimes the hard way)! Here are the five steps that support our Nettl studios and partners in delivering a consistently great Customer Experience across city, country and continent.
    Frequently critiquing and improving
Just as we outlined above, we review our clients' journeys and identify what we should be improving next. Take photos of the actual journey of a client from what they see when they search online to what your premises looks like when they come and visit (and it is safe to do so in accordance with government guidelines). Collate all these together to form a visual journey and you'll quickly see the things that are less than satisfactory, be it the dated website or the dust behind your desktop. 
    Handling Expectations
How can you create music if you're not singing from the same hymn sheet? We have a stepping stone process that guides us through common issues that may arise or any misconceptions a client may have. This means we can  manage expectations even before  starting work so that when we deliver, it's exactly as expected. We share this with our employees and partners throughout the world with online and classroom sales training and mentorship. Our custom built CMS system is host to our training documentation  that our teams  constantly review to keep it fresh! 
    Personalised, frequent, automated communications
We help our clients get More Customers by enabling them to share their message and improve their marketing with web & graphic design, print, signs and digital marketing. These conversations start both in-store and online. When we design websites or produce print, there's often time between ordering and completion. To keep our clients in the loop and excited about their project, our custom built CRM system automatically sends order forms, confirmations, online and interactive proofs as well as despatch alerts to our clients. It reminds them when a payment is going to be processed using direct debit and shares receipts and invoices without  any manual involvement. This means we can spend our time talking to them about the things that matter – helping them get More Customers!
    Smart systems that inform our actions
Our custom built CRM system, W3p Flyerlink, gathers really important information  such as client spending patterns. Understanding, with the click of a button, who is ordering as usual or who's ordering more or less frequently, with an increasing or decreasing spend, and which services they are asking for allows us to give an additional level of insight that even our clients don't often know. We can help them plan their marketing better, give thanks to those who are supporting us and help those with changing patterns create campaigns and plans to build consistency in a way that suits their business circumstances, needs and budget. Our system reports also allow us to schedule calls to clients for days, weeks or months in advance, assign them to other studio members and include knowledge notes so  every team member knows as much as  they can about each client to tailor a service to them. We can even run a report to see who we've followed up with after an order and who we need to call to check in on.
    Get clients involved
In the main, as a creative business, be it printer, designer or a signs company, many of our clients are business owners or are invested to some degree in the success of their business. They know their brand and business and want to understand the process of using marketing to get more customers. Our client portal allows customers to get involved in the sales process, be that through saving imagery they want to use in design, to making payments, approving proofs or sharing files with us. We even have template systems which many of our multi-site clients use to edit their own personalised designs according to location (e.g. on a poster), person (e.g. on a business card) or event (e.g. on a flyer) and order straight through the system any time of day, from anywhere in the world. Pretty relevant with most networks currently working remotely. 
What are the impacts of a negative or inconsistent Customer Experience?
When things go wrong and clients are unhappy, we must resolve issues using some amount of time, money or human resource. Spending our time fixing the way a service was carried out because it's not what the client expected. Refunding or replacing a product because the one the client received is not correct. Managing client complaints and frustrations over the phone, in person and online. Each of these scenarios drain us of money and motivation. They dampen our excitement and frustrate our clients.
Customers tell an average of nine people about a positive experience with a brand, but they tell 16 people about a negative experience.
Investigating and improving the way we manage our clients' interactions with our business alleviates and avoids much of this conflict. Making it easy for them to do business with us. Meaning you can achieve happier clients, more engaged staff and a more profitable business.
How to use client management to drive more profitable sales
When your clients progress fluidly through transactions and projects and are happy to catch up throughout, and for you to follow-up afterwards, you are in a much better position to add value. You can share insight and advice as well as offer products and services that you know would help, because you've learned lots about them through the sales process.
We're really lucky to be a group of small businesses joined together as a network with the resources of a global brand and its experience, systems and processes. 
If you're a business looking to improve your customer experience, get in touch with your local Nettl studio.
If you're a graphics or print business who might be interested in joining our network to access support, training and our global, custom built systems and software to manage clients' journeys, chat to our Nettl team.