Catch Attention as you Reopen for Business
 approx 5 minute read
Reopening in a new customer landscape
Competition is high right now. You're competing against the increasing number of new businesses, the migration online and the mounting pressures to help clients feel safe and secure in your business. How do you catch attention and create an engaging environment for clients right now? If you're reopening your business soon, you need to create a space that draws people in and makes them feel secure once they're there. Here's how you can adapt your business to changing client preferences and overcome the challenges of reopening in a socially-distant way.
Changing Client Preferences
The way we shop has changed. As a business leader, how do you satisfy consumers' preferences to connect and support local? As well as their desire to shop both online and in-person? Their want for on-demand access? And a secure environment? Consumers want to connect, and to keep their distance. Here are some ways our clients' preferences have changed or grown over the last 12 months:
Shop local
Two thirds of consumers are more likely to shop in their local community than they were 12 months earlier. Community initiatives, government support schemes and a growing sentiment to champion your neighbourhood have culminated in a preference to know the people behind the business. To connect with them. To support them.
Blended online + in-person
"Retail leaders must first understand what customers actually want now and then begin to craft online and in-store experiences that align with consumer expectations and appetite for shopping for categories in both places."
Online shopping has undoubtedly grown over the past 12-18 months. With high street stores closed or consumers opting to shop from home more often, more people have made the jump to virtual purchases. That's not to say we swap our stores for warehouses though. Many reports show people prefer different ways of shopping for different goods and services. Survey your clients and research online to better understand whether your audience is opting for online, or in-person. One key takeaway is that omni-channel marketing and offerings are a key contributor to success. Become salient in the marketplace, be where your clients need you, when they need you.
Seeking engagement and connection
Perhaps it's the long days spent at home, the plethora of video calls, or the absence of nights on the dance-floor. Whatever the reason, our relationships with our clients have shifted. We're seeking more authentic connection. Remember to cultivate this with a consultative approach to building relationships. Below, we'll share more ideas to help you engage with customers as you reopen.
How to engage with customers once you've reopened
Making a name for yourself locally
If you're looking to capture those audiences who want to shop locally, you need to start by getting your message clear, and then getting it in front of your community.
1.
Audit & Review your branding before reopening
Review your branding. Does it reflect who you are, why you exist and how you help your clients? 
As we've read, a lot has changed in the way consumers interact with businesses. It's likely that your business has pivoted in one way or another over the past 18 months. Read up on branding best practices and ideas and ask yourself, "Does my brand still represent my business?" We all know humans can find change challenging. That goes for customers too, so don't make amends for the sake of a switch up, but do take some time to see if the aesthetics, voice and values of your brand, are still relevant to your business today. 
2.
Get your business noticed locally
Connect with other locals and increase brand awareness through local networking. Recessionary times breed new businesses. It's likely there will be a few new faces when you reopen. Our clients have also been behind closed doors for a very long time. Go on the offensive by doing everything you can to ensure that you become (or remain) famous locally. 
Join networking groups, get involved in community initiatives and go meet your neighbours to spread the word of your return. 
Refresh the sad shopfront signage you've been meaning to update. Create engaging window artwork to grab the attention of passers by. Share updates and changes to your business for everyone to see.
Create a comfortable space
Especially as pubs and restaurants reopen, face-to-face meetings return and clients start coming on-site more often, it's vital to ensure you're set up to accommodate them. Here are some ways you can create comfortable client-facing spaces as you reopen your business.
1. Communicate clearly
We've mentioned before that the unknown is a huge barrier to sales. As you reopen, ensure that every client, new and existing, is completely clear on how to do business with you. Share social media posts, website announcements and signage outside your business to let customers know what they can expect from working with you. This might be floor markings to communicate a one-way system, or a social media post with a guide to online ordering. Clear expectations will help your clients feel more at ease in your business.
2. Socially distant
Help clients feel more comfortable by clearly marking where they should wait, where they should walk and how they can interact with others in a socially-distanced manner at your business. Simple floor stickers, cafe barriers, and screens can help everyone understand what to expect, and what's expected of them. 
Brand your signage and marketing to create a space that looks and feels like your business. Create eye-catching, branded, bespoke signage to stand out from the crowd.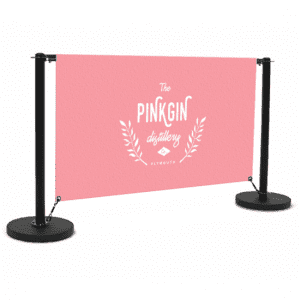 3. Engage your customers
Bookings are filling up and queues are getting longer. There's nothing worse than a boring wait to be seated at your table or to enter a building with reduced capacity. Make wait-time an engaging and fun experience for your clients:
Include QR codes with links to virtual menus or helpful blogs in the waiting area so your customers can browse, read or watch.

Get creative with way-finding signage; include brainteasers, trivia or social media handles to give customers something to interact with as they wait in line.

Distribute scratch cards to gamify the wait, banish boredom and get customers interacting with your brand. Offer lots of little prizes from

another chance to win

with a free scratch card to

a free t-shirt

to

complimentary drinks.
Create a photo op along the way. Use cafe barriers and floor stencils to ensure social distancing best practices on the lead up to a backdrop, a flower wall or a giant deckchair where customers can spend time sharing snaps to your social media.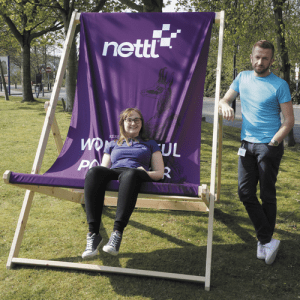 Create a Marketing Plan for Reopening
The best way to ensure you are ready to reopen is to streamline each of these aspects with a personal marketing plan. Plan how you will share your message both online and in-person. We know that consumers want to be able to interact with our businesses digitally and traditionally so remember to include omni-channel methods of communication. 
If you are reopening your business and trying to find ways to create engaging socially distant spaces for your clients, reach out to your local Nettl studio for help and advice.